Hobbs Fire Department Personnel of the Year
Firefigher of the Year: Mark Doporto
EMT of the Year: Lee Haines
Supervisor of the Year: Michael Prudencio
Battle of the Badges
It's a basketball game between Hobbs Police Department and Hobbs Fire Deparment! This battle took place Thursday, November 3rd. HFD was the winner of the game, 78-35. To view the rest of the pictures, [click here]

Tharon Drake Homecoming Event
To view more pictures, visit the City of Hobbs Facebook page.
Warrior Award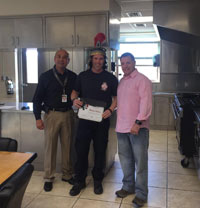 Congratulations to this month's recipient of the City of Hobbs Warrior Award, Michael Nelson! Mr. Nelson is a Driver Engineer at the Hobbs Fire Department and has been the driving force behind their Toys for Tots program from start to finish for the last 8 years, this year being no different. The Toys for Tots program is instrumental in providing Christmas gifts to children of all ages who otherwise may not have received anything during the holidays. Michael puts many hours into the program, coordinating the toy drive, taking in donations, purchasing toys, contacting the families, and finally making sure the gifts make it to the children.

This year, through the coordination of Mr. Nelson, receiving the toys began on November 20th and was completed on December 18th. At first, the drive did not produce the amount of toys expected, but through Michael's hard work and determination, the end result was a huge success. Not only did the approximately 130 children receive gifts (each child received 2-3 gifts), but hundreds of toys were delivered to a local soup kitchen so it could provide gifts to children as well. Through the efforts and coordination of Michael Nelson, the Toys for Tots program was once again successful, bringing smiles to hundreds of children's and parents' faces! Thank you, Michael Nelson!

Pictured here is Michel Nelson between HFD Fire Chief Manny Gomez and City Manager J.J. Murphy, as well as the result of Mr. Nelson's diligence with some of his participating coworkers and firefighters.

(click for larger pictures)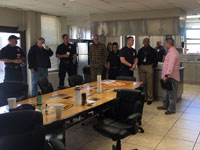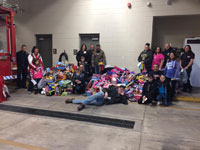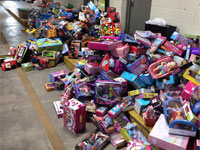 Monthly CPR Classes
CPR class first Saturday of each month. $10 fee. Contact Fire Station 1 for more details. (575) 397-9311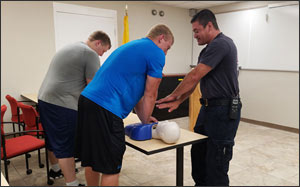 SAFER Grant
The City of Hobbs and Hobbs Fire Department (HFD) are proud to be recognized as a recipient of the SAFER (Staffing for Adequate Fire and Emergency Response) Grant in the amount of $824,544 for its recruiting and hiring program. With this funding, the HFD will hire 7 firefighters within 6 months. At the time of the award (August 26th, 2016), HFD had 57 firefighters; hiring 7 new firefighters will place the HFD at 64 firefighters.

The SAFER Grant was created to provide funding assistance directly to fire departments and organizations that represent the interests of volunteer firefighters. The SAFER Grant program assists fire departments nationwide to increase their number of trained firefighters, attain 24-hour staffing, and provide adequate protection of their communities. The goal of SAFER is to enhance the local fire departments' abilities to comply with staffing, response, and operational standards established by the NFPA and OSHA. For more details on the SAFER Grant and other similar grants, visit fema.gov.

Mayor Sam D. Cobb of Hobbs stated, "The Fire and EMS Service is a vital asset of our community that is critical to maintain. We look forward to the growth that this grant will offer our department and community."

Hobbs Fire Chief Manny Gomez stated, "There are many vital components to delivering a quality fire service, including a well-trained and well-staffed department. Approval of the awards will provide a resource to us that will deliver a quality level of service to citizens of Hobbs."

City Manager, J.J. Murphy, stated, "Since my arrival, I have been steadfast in supporting our dedicated public safety professionals. This award allows us to better serve the public while at the same time providing additional protection to the men and women of HFD. With this funding from the SAFER grant, our Hobbs Fire Department will be able to increase its operational capabilities, which in turn will improve the quality of life of our citizens."